Tulsa Roofing Company
ROOFING TULSA SINCE 2003
Top-Rated Tulsa Roofing Contractor
Pro-Tech Roofing has been serving Tulsa and surrounding communities all over Northeast Oklahoma since 2003. We are a local, family-owned BBB A+ Rated Tulsa Roofing Company with a reputation for delivering very high-quality results for a reasonable cost. When you hire Pro-Tech Roofing, you can rest assured that you're working with a local roofer who will be here for you long after the storm has passed.
Roscoe was very professional & knowledgeable.

Retha Thompson
18:55 22 Nov 23
Had a great experience , these guys know their stuff. Omar was timely and diligent getting everything done with his team. He was honest and transparent with my options. They left the job site clean, and got done on time. It is incredible the difference it makes in terms of temperature inside the house when the ridge vent is added, my previous roofer did not add appropriate ventilation which caused my roof to get damaged and need replacement prematurely. I highly recommend these guys for roofing in Tulsa.

David Nasr BS&B
16:55 07 Aug 23
Had to help my MIL get her roof fixed when I was 500 miles away. Pro-Tech had her roof fixed in a couple of day for a fraction of the cost we expected. Knowing you're working with people you can trust is such a blessing

Jody Jones
15:11 07 Jul 23
We recently had several days of rain, and my roof began to leak. Did a lot of research, and Pro-Tech Roofing had good reviews so we went with them. They very quickly had someone out there on the roof to see what the issue was. I had flashing that needed replaced. All of the staff have been professional and courteous. They were out to correct the problems much earlier than estimated; I guess they had an opening come up and my roof was fixed within days of the issue arising. They were communicative, and the price was more than fair. I received my bill in the mail promptly. I plan to continue using Pro-Tech Roofing for any future roofing needs.

Jessica Elmore
15:24 12 May 23
used a different roofer and started a review of this roofer by mistake.

I have many years conducting construction inspections. You won't find a better quality, more respected roofing company.

Teresa Hatfield
01:12 30 Nov 22
Our roof had hail damage. Larry Wilson at Pro-Tech inspected the roof and took time to come back and meet with the insurance adjustor before we even hired him for the job. The red tape you must go through with insurance is astounding; Larry is a seasoned roofer and knows how to mitigate the red tape. He worked on our behalf with the insurance company. His crew was professional, timely, carful around our landscaping, and thoroughly cleaned up after themselves. Larry and Omar regularly communicated with us throughout the entire process. A plus for me; the business is established in our community and will be here tomorrow. Pro-Tech will stay in my phone contacts for referrals and future need. Thanks Pro-Tech!

Did a fantastic job replacing my roof! Perfectly cleaned up when done too.

Pro-Tech roofing is a top notch company! Larry and Omar are great to work with. We were extremely impressed with the entire process from start to finish. They patched a leak before they even knew they'd get the job, taking away our stress and the urgency of replacing our roof. They were always quick to reply and made us feel like we were their top priority. They used superior materials and were very respectful of our property and cleaned up after themselves. Our roof looks great! We would not hesitate to recommend them to anyone.

Annette Dailey
15:50 09 Nov 21
I cant say enough good about these guys. They were always concerned about my satisfaction and if I had any questions. I never had to clean up after their work. Always willing to work with my insurance company, this was above and beyond their obligation, they took the time to explain what my insurance adjuster wouldn't. Protech had their work cut out for them dealing with my insurance adjuster and they did it! I need to add, they were the only company out of many that took the time to patch my damage on my roof before they even had the job. I love my new roof! Thank you Protech!!


Kelly Thomason
14:27 31 May 21
So many roofing companies to choose from but ProTech definitely stands out. Top grade products (upgrades from most) and fast efficient work. The guys are experienced and loyal employees. Open communication. Very proud of my new roof! Recommend 100%.

They really went the extra mile to get me the nicest roof in the neighborhood. They know how to work with tough insurance adjusters and made efforts to save me money and keep costs below what the insurance paid. Top notch service, the roofers were great and cleaned everything up. I feel good knowing I have a competent and honest roofer on call in Tulsa, not some here today gone tomorrow kind of contractor. Excellent job ProTech!.

Seth Dazey
23:45 08 Aug 20
Pro-Tech Roofing, Inc. and Larry Wilson came highly recommended from a trusted friend and after speaking to two other roofing companies it was an easy choice to make. Larry was very honest and up-front with us through the entire process. He is very interested in customer satisfaction and will ensure that the highest quality of work is performed. He keeps the customer informed through the entire process and makes fair treatment and transparency in the pricing a priority. We couldn't be more pleased. The attention to detail was outstanding. A few examples of going the extra mile – we had a tankless water heater installed a little over a year ago and they left the vent pipe unpainted white PVC and Larry's crew ensured it was painted to match the other pipes. I had personally patched the flashing around our outdoor fireplace since it was leaking, and Larry made sure that the crew was instructed to make every effort to correct and it no longer leaks. I can't say enough how great the overall experience with Pro-Tech Roofing and would highly recommend to anyone in need of roofing repair/replacement.

hAWK Capital
19:10 13 May 20
When I needed a new roof put on my house I had 3 companies recommended to me. It was easy to see (after our first meeting) that Larry/Pro-Tech was going to be my choice. Larry's knowledge and experience are evident as soon as you meet him. He does not try to "push" for the sale, but answers questions and addresses issues in a knowledgeable and professional manner. He formulated a plan for better ventilation on my attic and the improvement was evident as soon as the job was complete. His crew was on time, efficient, and left the jobsite clean and neat. He returns phone calls in a timely manner. You can trust Pro Tech!

Pro-tech is responsive, reliable, fair, honest and do excellent work. I highly recommend them for all roofing needs. My experience is that they operate with complete integrity and you can trust the work that is to be done.

Joel LaCourse
19:25 29 Oct 18
Larry knows his stuff. Both with shingles, eves, hips, ridges, squares, as well as traversing the ins and outs of insurance claims. Good work, punctual, and always willing to help.I first met Larry after a windstorm took a couple shingles up on my house. It wasn't quite time for a new roof, but he stayed on the phone with me explaining everything he saw. I kept his card around and when a new roof was needed, he got my business. I couldn't have made a better decision.Thanks Pro-Tech!

Kale Wallace
03:09 10 Apr 18
Hooray! Pro-Tech did an excellent job in reflashing my leaking skylight that two other Companies failed to recommend. 3" of rain and not a drop of leaking!

Pro-Tech Roofing was recommended to me by a friend. I was very pleased, with the plan for my roof, at the first meeting with Larry. I won't forget his words, " I will treat your roof like it was my own." The crew was pleasant and my yard was never trashed. It was completed in a timely manner, I will always recommend Pro-Tech Roofing.

Kim Walker
21:20 28 Aug 16
Pro-Tech Roofing is a very professional company. When shingles were displaced from my roof in a recent storm, they were able to work me into their busy schedule to replace them. The representative explained to me in detail why the shingles were blowing off due to the short cuts taken by other less experienced contractors. They quoted me a price and it did not creep as that happens in construction often. The job was done perfectly and the office and staff were very friendly. I will definately use them in the future and recommend them to anyone that should need this type of service.

Brian Dawes
20:33 06 Mar 14
Pro-Tech has put on many roofs for me in the past, Larry is a great contractor and they put out a great product.

Jenn Abbott
21:34 14 Oct 13
NEED A TULSA ROOFER? CALL RIGHT NOW – (918) 250-7663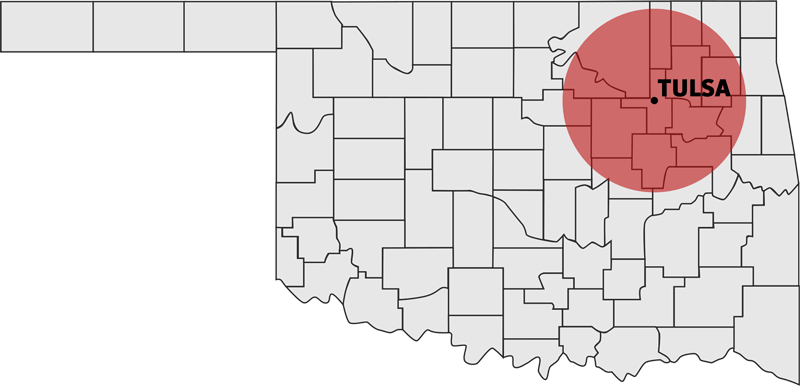 Why Pro-Tech Roofing
Larry Wilson has 30+ years roofing experience
We're an honest roofing company

We treat your property with respect

We do the little things right
We believe you deserve the best
Credentials & Certifications
Oklahoma Licenses #: 80000220 & 80003685
GAF Certified Roofing Contractor
Owens Corning Roofing Preferred Contractor
Tamko Building Products
Malarkey Roofing Products
CertainTeed Roofing Products
Tulsa Regional Chamber Member
Home Builders Association of Tulsa
Historical Slate / Tile Roof Restoration
BBB Tulsa Roofers – A+ Rated
Request a Roofing Quote
Fill out the form below. Or just call (918) 250-7663!
After a storm, Tulsans can expect to get bombarded with fly-by-night roofing outfits trying to make a quick buck. Save yourself the trouble, and make one phone call to (918) 250-7663. We've been here, and we'll be here.
Precision. Integrity. Price.
We treat your property as if it's our own. From materials to roof installation to clean-up, "we go the extra mile" to ensure your new roof provides peace of mind and security for your property… all at a fair price you can live with.
Tulsa Area Roofing Projects