How to Hire a Reliable Roofer 
After (or before) The Storm
After a hail storm or major wind storm rolls through, many homeowners are bombarded by roofing salesmen knocking on doors.
Some of them promise to "get you a free roof."
While others put the pressure on to sign an agreement and lock you into a contract.
In this post, we're going to look at several things you can do to protect yourself from shady roofers who may not have your best interest at heart.
What You Want to Avoid
When you need a new roof or major roof repairs, you are put in a vulnerable position.
There is a sense of urgency to get your roof fixed to avoid problems with roof leaks that can cause even more damage.
Then along comes a friendly roofing salesman (or several) knocking at your door.
You may feel pressure to act fast…
Especially if someone gives you a low-ball price offer.
But, it's important to take your time when hiring a roofing company, because a new roof is a significant (and important) investment.
By taking your time, you can avoid unscrupulous roofers that:
Cut corners with quality
Hire inexperienced subs
Never return your phone calls
Ignore warranty repairs
Use cheap or shoddy materials
Leave off vital roof components
Reuse old flashing materials
Install too few nails per shingle
Ignore attic ventilation needs
Do not install drip edge
Misrepresent their company
Are not state licensed & insured
Hit you with "extra" charges
Leave you with a bad roof job
Leave town and never come back
A roof that gets replaced by a bad roofing company can leave you holding the bag if they don't pay their subs or suppliers.
Or worse.
After a bad roofing job…
You may need to replace the entire roof again to fix problems created after the fact.
Let's look at some things you can do to avoid this situation.
We'll start with our most important recommendation.
#1 – Take Your Time When Hiring a Roofing Contractor
While it may not seem like it right after a storm, time is on your side.
Even taking just a day or two to evaluate your options could save you major headaches down the line.
So, take a deep breath.
And take your time.
If you feel pressure to sign a "contingency agreement" too soon, don't do it.
Wait till you've had time to evaluate the merits and reputation of the roofing company before moving forward.
Oftentimes roof hail damage does not lead to immediate leaks, so you've got some time.
Even if your roof is leaking, you can pay to have a roofer install some emergency tarping, while you make a roofer selection.
#2 – Hire a Local Roofing Company
A local roofing company with a long track record of excellent service usually is your best bet.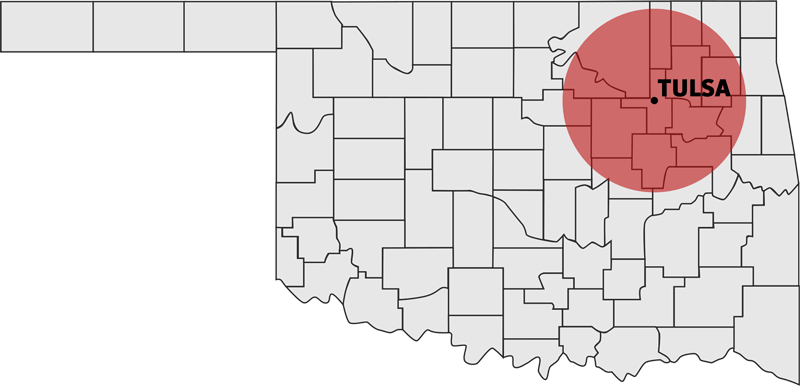 While there are reputable roofing companies everywhere…
If you want to set yourself up for a successful roof replacement, look for a local roofer you can trust.
One that will have your back next month, next year or five years from now.
A local roofing company is part of your community. The reputable ones have an office, a warehouse and local crews with whom they've worked for years.
A well-established local roofing company will be more accessible, more available and more reliable.
Ask you friends and neighbors about great roofers in the area, and call them.
#3 – Do Your Homework & Read Reviews
We are blessed with many tools to research and evaluate options when searching for contractors.
Before signing with a roofing contractor, do your homework.
Read roofer reviews on Google.
Visit their Facebook page.
Check their BBB profile for unresolved complaints.
Ask for homeowner references.
Ask for and look up their state roofing contractor license.
Likewise, request a current copy of their liability insurance certificate.
Review their roof project portfolio. You should see several finished projects.
Look for shingle manufacturer certifications or awards.
Ask about the roofer's warranty program.
Ask how they manage the job site, and ask about safety and quality protocols.
#4 – Hire a Roofer That Understands the Insurance Process
Homeowner's insurance claims can be tricky to deal with.
When you file a claim for roof damage, an adjuster will be assigned to your claim.
Now, more than ever, insurance companies are making it more difficult to get approved…
…for a new roofing system that covers your roof with components with the same quality you had before.
Sometimes they will want to substitute lower-quality shingles or won't want to cover ice shields or won't want to approve the same type of flashings that were installed on the previous roof.
A great roofing company thoroughly understands the insurance process and can document damage in a way that leads to higher approvals…
So you get a true replacement for your old roof.
But.
Beware of roofers who claim they will "waive" or "absorb" the cost of your deductible, as this is an illegal practice that could open you to potential liability.
#5 – Carefully Review the Contract & Warranty
Make sure you fully understand the contract and warranty offered by the roofing company.
Review the materials and scope of work, so you know what's included (and what's not).
Don't make any assumptions, and ask all the questions you need to feel comfortable that you're making a great decision.
Professional contractors will not be hesitant or annoyed at taking the time to help you understand the terms of your agreement.
Make sure you understand the payment terms, materials included, change order procedures, timeline, etc.
Ask about what to do if you have problems later.
And ask about the company's policy in how they handle warranty repairs.
A great contractor will be upfront and inspire confidence in their after-sale service.
Once you feel confident in your choice of roofers, move forward.
#6 – After Hiring a Roofer – Participate in the Process
As the project gets underway, know what you are responsible for in terms of required payments, material staging area and any other preparations you may need to make prior to construction.
Approach the project with a positive outlook and stay in communication with your project manager.
Don't hesitate to bring up any concerns you may have along the way.
And trust the professionals you hired to do a great job.
We hope this helps you feel more comfortable as you make a great decision hiring a roofer.
If you like this post…
And have think it would be helpful to your audience, please give us a share on social media ››››
If you are in or around Tulsa, Oklahoma and need roofing services, give us a call at (918) 250-7663 or contact us here.