Roof Insurance Claim Denials & Approvals
Don't Get Short Changed
Roof insurance claims have been taking longer recently.
And insurance companies have been approving claims for less.
After you've submitted a roof insurance claim…
It's not uncommon for insurance companies to approve less than you need to get a comparable roof replacement for what was there before.
By substituting cheaper baseline products or inferior materials to replace your roof, you end up with a roof of lower quality – leaving you vulnerable to more problems down the road.
How Some Adjusters Cut Corners
Claims adjusters are good people, but they have a job to do.
And that job is to help settle your claim in the best interests of the insurance company.
After you file a claim with your homeowners insurance, a claims adjuster will visit your property.
They inspect and assess the damage and determine what is covered and what's not.
Today, we're seeing more instances where the insurance company offers property owners roof replacements with materials that do not line up with the quality that was there before.
And that could be big problem when the next storm rolls through or when it's time to sell your house.
What are some instances of corner-cutting substitutions or omissions?
Cheap, inferior shingles specified
Low-quality felt underlayment
Lack of ice shields (code required)
Underestimated tear-off needs
Vital roof components left off
Inferior flashing materials
Underestimated ventilation needs
Drip edge materials not included
Damaged guttering overlooked
Roof decking was ignored
Starter course shingles left out
Expected re-use of flashings
Get Approved For a True Roof Replacement
Statistics show that about 1 in 40 insured homes has a property damage claim due to wind or hail each year.
Should the legitimate need arise to file a roof insurance claim, you deserve a true roof replacement.
So your roof is restored with components of (at least) like quality and durability.
If you're not careful, your insurance company may offer to replace your 30-year roof with a 20-year roof.
That's no good.
Beyond materials of construction, roof design is vital as well.
You will want to make sure your new roof is designed to perform properly with adequate ventilation, drainage and sealing properties.
A great roofing company will provide a complete inspection to determine the full scope of your roof replacement needs.
With that, they can identify the items your insurer may have missed.
And provide a complete estimate to you and your insurance company.
Should You File a Roof Insurance Claim?
If you're in an area that recently had a big storm event like big hail or wind, you may be wondering…
Should I file a roof insurance claim?
If the storm included hail, we suggest that you do a preliminary walk-around of your property.
There are things you can look for as "first clues" to see if you may have sustained hail damage.
This 51-point hail damage checklist is a good place to start.
Many of these items can be viewed from the ground, so you don't need to get on your roof.
If you decide to inspect your roof up close, as always…
Please practice safety, and do not get on your roof without proper training and safety gear.
Call Your Roofing Company Before Filing a Claim
If you think you may have roof damage…
Before filing a claim, contact a reputable, local roofing company.
And request an inspection.
A good roofer will help you determine if damage warrants opening a claim.
This could save you a bunch of hassle and a claim denial if you don't have claimable damage.
If you've never hired a roofer, read our guide on how to hire a reliable roofing company in your area.
Do this early.
Some insurance companies have deadlines that determine how long after a storm or damage event you're able to file a claim.
How A Local Roofer Can Help
A local roofing company with a long track record of excellent service usually is your best bet.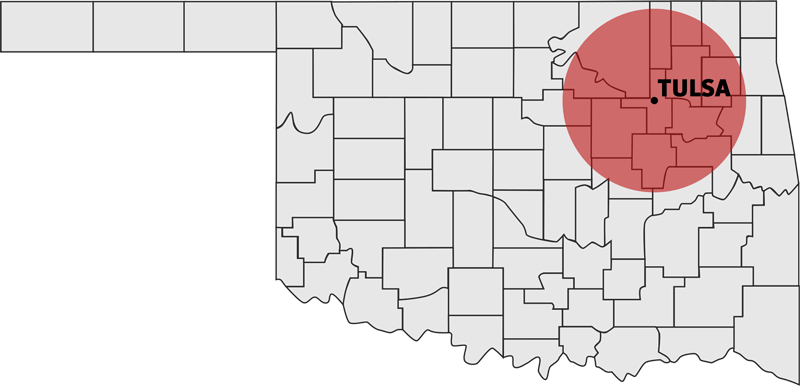 Your roofer should be familiar with the insurance process.
So they can help you with complete cost estimates that include everything you need to replace your roof.
This can help you get the fair settlement you deserve for the insurance you've been paying for.
A local roofer may even know many of the adjusters in the area, which can help as well.
If you need it, your roofer can complete temporary repairs to help stop leaks or further damage while the claims adjustment process takes place. 
We hope this helps you better understand how you can get the most from your roof insurance claim.
If you like this post…
And have think it would be helpful to your audience, please give us a share on social media ››››
If you are in or around Tulsa, Oklahoma and need roofing services, give us a call at (918) 250-7663 or contact us here.